Tully the French Bulldog is one of the most popular—and certainly one of the most entertaining—of the regular visitors to the dog park. Her routine is a familiar one; tearing around on the grass before throwing herself flat-out on her back and wiggling around like a pint-sized breakdancer, swept up in her own internal playlist. Look up "bliss" in the dictionary; you might just find a picture of an upside-down Tully.
There's not a single element of this scenario that would even remotely suggest the ordeal that Tully had endured for the months leading up to it. You would never guess that Tully is a cancer survivor, recently triumphing over the mast cell cancer that forced the nine-year-old to tough out seven months of chemotherapy and related surgeries in order to make her way back to the park and her exuberant daily routine. But triumph she did. Tully's story is one of inspiration and perseverance; each page of it written with the help of a loving family and a knowledgeable and caring medical team. Because of all those ingredients, Tully is now a poster girl for the limitless possibilities of positivity.
It was just about four years ago that her owner (read, mom) Saxon, first noticed a small bump on Tully's muzzle. With the family just about to relocate from Arizona to New York, Saxon took Tully to her veterinarian, who advised keeping an eye on the growth to note any changes in appearance. For those four years, that's exactly what she did; nothing changed. But last December, the bump became raised and mottled and apparently painful. With that, Saxon took Tully to have the growth removed and biopsied. When the call came a few days later, the news was harsh; it was a Stage 3 mast cell tumor.
As the name suggests, a mast cell tumor is a type of tumor consisting of mast cells—white blood cells that are found in many tissues of the body. While commonly forming as nodules or masses in the skin, they can also affect other areas of the body, including the spleen, liver, intestine, and bone marrow.
"[That type of cancer] is super aggressive, so we jumped into high gear and took her up to Cornell University Veterinary Specialists," Saxon recalls. "They said we've got to do surgery on her to remove the margins because even through the vet had removed the actual cyst, there were of course cells remaining that could be trouble. So she had her entire lip cut open and a section taken out and sewed back together. And then we did eight rounds of really strong chemo because with her breed they said there was a higher chance of something going wrong with radiation.
"They also did biopsies of all her internal organs, including her spleen and liver because usually mast cell presents as a skin lesion and the secondary site are the internal organs, which is the real killer."
Saxon, who had just gone through supporting her own mother as she waged a successful battle against an aggressive form of breast cancer, knew well the staggering side effects that can accompany chemotherapy, but like Saxon's mom, Tully proved a tenacious battler.
"She was pretty sick, but she went through it really well. She'd be sick for a day and then she'd rally and she'd be herself again," Saxon says. "It was an ordeal, but she was really tough. And in my own personal life, I had the experience of someone beating cancer so I went into it knowing that it is possible to beat it. We decided we were going to fight it and give her the years of her life that we feel she deserved to have."
Through it all, Tully had a remarkable support team, including Saxon and her husband and their children, as well as Tully's "sister," fellow Frenchie, Ivy. The family, along with the team at CUVS, helped to carry Tully through the toughest of times, ensuring that every dose of medicine was accompanied by an equal dose of love.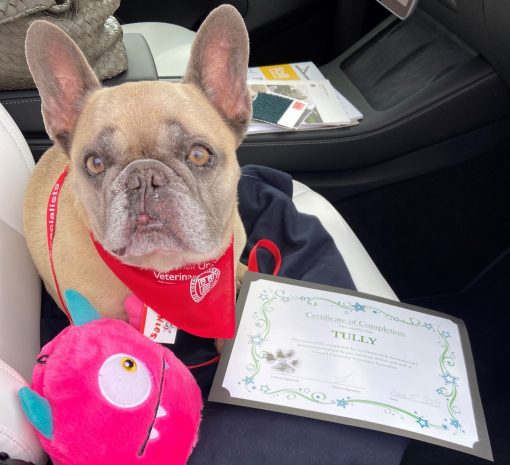 "We all knew it was just something we needed to get done," says Saxon. I had Tully before I had my kids; before I met my husband. She was literally my first baby and she is absolutely a member of this family. In fact, we had just built our house and we had the guy who was helping us build our garden put all of our handprints in wet cement there as he was constructing it. We put [Tully's and Ivy's] prints in it as well. We had just gotten Tully's diagnosis at the time, and I wanted to show that in 2021, we moved into this house and Tully was a part of this family."
Saxon also is quick to credit the medical team at CUVS with helping her family build the foundation of hope and commitment that helped them all to stand strong throughout the process and ultimately ended in triumph.
"As soon as we got connected with Cornell, the entire staff was compassionate to the fact that we were going through something really hard. They took the time to explain everything in detail and made me feel empowered to make the right choices. It can be scary and frustrating because there is so little information available out there. I felt like they walked beside me in the emotion of it while also leading the way from an insight perspective and experience. We even got a certificate at the end of chemo with Tully's paw print on it; they really made it clear that she had achieved something by going through it all. They gave us hope, right from the very beginning."
Now cancer-free, Tully is back to living her best life, strutting her stuff at the beach and at the park; entertaining her loving family with her irresistible face and irrepressible humor. Tully now spends her afternoons chewing on the occasional antler and lying in the sun. The picture of bliss.
By Mark Preston

Tully's story is the best kind of story; one with a happy ending. It is exactly the kind of story that the work of the Animal Cancer Foundation is aimed at creating more of through its commitment to funding research and advancing the cause of cancer care in pets. It's important to note that cancer doesn't have to be a death sentence, but there are countless more stories of countless more pets and families effected by cancer whose endings are yet to be written. Especially this month, during Nationwide's Pet Cancer Awareness Month, we hope you'll consider donating to ACF so that we can help to script more happy ones.